My new contribution for the "Yearbook on Federalism" (in German) is out.
December 6, 2018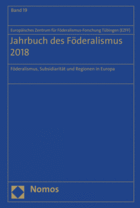 My new contribution for the "Yearbook on Federalism" (in German) is out: **"Reformpolitik im Australischen Föderalismus: Eine vergleichende Perspektive" [The Politics of Reform in Australian Federalism] In: Europäisches Zentrum für Föderalismus-Forschung Tübingen (Hrsg.): Jahrbuch des Föderalismus 2018. Baden-Baden: Nomos, 355-368.
The current edition of the 'Yearbook on Federalism' examines issues related to the concept of domestic security being a joint task for the federal government, nations and the European Union. Conceived as a wide-ranging compendium, it provides the reader with a comprehensive overview of different aspects of federal and regional structures in Germany and Europe.
The 30 contributions by academics and politicians (such as Armin Laschet, the prime minister of North Rhein-Westphalia, and Boris Pistorius, the minister of the interior and sport in Lower Saxony) that it contains apply academic approaches and convey the practical necessities of political decisions. In addition, the book contains contributions on regional and municipal cooperation in Europe, and national reports on Germany, Ethiopia and Australia as well as on the Visegrad Group and European integration. It also gives due attention to subjects that are the focus of current research into federalism. This yearbook will not only appeal to political scientists and legal scholars, but also to officials in administration and political players.